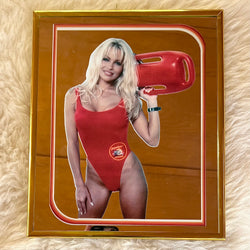 10x12" silver mirror in a lightweight gold frame.
Handmade and hand printed by yours truly in Austin, Texas.
PLEASE ALLOW 1-2 WEEK TURNAROUND ON ALL MIRROR ORDERS AS THESE ARE MADE TO ORDER :)
---------------------------------------------------------------------------------
SHIPPING/WEBSTORE
We ship from either our home base in Stoney Creek, Canada or our warehouse in Austin, Texas to anywhere in the world. 
When can I expect my order?
We do our best to process orders within two business days, excluding mirrors and ceramics, which are made to order.  Mirror orders and ceramics currently will take 3-4 weeks to process, please check back for updates once we get caught up after the holiday season. International orders are shipped with a partner service and will take an additional day to pass through customs. Packages are sent Canada Post to Canada and will be updated manually with tracking information or via USPS First Class Mail to all other countries. You will receive a confirmation e-mail when your order has been processed and another once your order is shipped. Below are the estimated delivery times to your destination for these methods:
Canada: 2-7 business days
United States: 3-14 business days
Europe: 6-21 business days
Australia & New Zealand: 10-28 business days
Everywhere else: will depend on your distance from Toronto and your local post service.
I received a customs charge from my local post office, what gives?
Rosehound Apparel is not responsible for customs charges accrued in your country. The shipping we charge covers only the cost we are charged by USPS to ship your parcel--this potential customs charge is not "double shipping", it is duty charge from your home country. We are not able to predict or prepay customs fees for you. To avoid unpleasant surprises, refer to your home postal service's customs and imports standards. 
PLEASE NOTE - UPS sticks you with crazy charges shipping from the US to Canada. I only use them for mirror shipping since their insurance actually covers damage unlike the USPS which makes you jump through a bunch of hoops to make a claim, but since breakage does occasionally happen I prefer the UPS in ONLY this instance.
Can you track my package?
Canada: Lettermail service is untracked, but larger orders, sent as Expedited Parcel, will include tracking. Lettermail is only available for small accessories.
Everywhere else: USPS First Class Mail includes tracking. Depending on your country's postal service, tracking may only follow your parcel until it leaves the United States. 
Do you offer express shipping?
We don't currently offer express shipping online, as we're only able to drop packages with our USPS partner service twice a week. To see if we can accommodate express shipping for you, email megan@rosehoundapparel.com before placing your order. Please note that because of the handmade nature of certain items, we cannot offer express shipping for all orders. Products like hats, ceramics and mirrors are made to order and can take a week or two production time. Please double-check the item listing to make sure it is eligible for express shipping. If your order included a pre-order, your package will ship when all of the items are available, unless they are stocked separately at our facilities, in which case they will arrive separately within a couple days of each other. 
*It says on the front page you offer free shipping, awesome!
This only applies to apparel and accessories placed to an address in the United States and excludes all mirrors and ceramics, sorry!
I think my package got lost in the mail!
Unfortunately snail mail still goes astray sometimes, and we're sorry! If 30 days have passed since you received your shipping confirmation and your package has not arrived, please write megan@rosehoundapparel.com with your order number. If your order included a made-to-order item, please be sure to add the production time to the delivery estimate.
My USPS tracking says "delivered" but I haven't received my package. 
USPS uses a geotagging service to mark your package as "delivered" when they are at your address. On very rare occasions, parcels may be marked as "delivered" a day early. If 24 hours have elapsed and you still haven't found your package, you should contact USPS for assistance--we at Rosehound have no information beyond what you see on your tracking page. Nine times out of ten, the package has been collected by a roommate or neighbour, tucked behind a plant, or is in the building lobby. 
My package arrived but a product was missing or damaged.
We're sorry! On the rare occasion there's been a mix-up or broken heart, e-mail megan@rosehoundapparel.com and we'll get you sorted out with a replacement or a refund ASAP.
We have insurance on our mirror orders, because they are frequently smashed by the USPS.  I assure you, this was not the case when the mirror was packed, which is with generous bubble wrap and fragile stickers.  If your mirror shows up broken in the mail, please KEEP all wrapping and the broken product to submit to the USPS.  These are carefully handmade and costly for us to make, and we would love to get you a replacement without hurting either of us cost-wise.
What's your return policy?
If you're unhappy with the products you ordered, email megan@rosehoundapparel.com as soon as possible to organize a return. You will pay return shipping to our Toronto, Canada studio. Original shipping will only be refunded if the product is damaged or otherwise not as advertised. 
I live in Toronto, can I pick up my order from your studio?
Because of our irregular hours, we can only welcome people to the studio by strict appointment. However, we do have a number of amazing stockists in Toronto you should go out and support! 
During the holidays, you can contact megan@rosehoundapparel.com if you live in the Toronto/Hamilton area to arrange drop off for ceramics and small accessories if they are stocked in Canada.  Unfortunately mirrors are no longer made in Canada and only ship from our location in Austin, TX.
When will ______ be back in stock?
The best way to stay up-to-date about restocks and new product drops is to follow us on Instagram and on Facebook. 
PRESS/INTERVIEW REQUESTS
I'd like to interview you for my magazine/website/school project/etc, or feature Rosehound products in my print or web publication!
E-mail megan@rosehoundapparel.com for interview and press requests.
EVENTS 
If you're interested in hosting Rosehound for a pop-up in your store or at your market, please contact megan@rosehoundapparel.com. 

Where is your next pop-up?
Follow us on Instagram and Facebook to stay up-to-date. 


WHOLESALE
I'd like to stock Rosehound at my shop. Do you do wholesale?
Absolutely. E-mail megan@rosehoundapparel.com for us to set you up with an account on the website to browse live inventory and wholesale pricing. Here's a list of our current stockists.
EVERYTHING ELSE
If you've got a question beyond what's listed above, we'd love to hear from you via e-mail. Nothing personal, but Instagram DMs will only sporatically be checked or answered.